Back to all posts
Posted on
17th Annual Education Foundation Golf Tournament- THANK YOU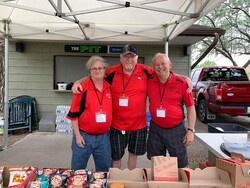 We are thankful for all of the Sponsors, Volunteers and Participants that made this year's 17th Annual Education Foundation Golf Tournament a success.
The golf tournament continues to be our major annual fundraising event and has been very successful to date. With your help, we hope to once again meet our goal of raising $10,000.
The continued ability of the Foundation to work with and support local Catholic Schools with unfunded projects, goals, and scholarships depends on the generosity of the community. We welcome your participation and invite you to join us as we work to encourage and change the lives of students in the Catholic School Division.
17th Annual Golf Tournament Sponsors
Learn more about the Education Foundation Golf Tournament